---
Found in Translation
---
The spatial installation "FOUND IN TRANSLATION" by Miguel Ribeiro transcends the boundaries of lexical translation: "saudade", a word from Portuguese deemed so untranslatable to date that it finds no proper counterpart in any other language. So, the question remains: How is it possible to make something understandable if one's own vocabulary is not sufficient?
The complex design project addresses an innate communication problem that can lead to a social divide between different cultures and, simultaneously, a lack of conceptual understanding that contributes to many important factors, such as cultural identity. The audience is invited to experience a new kind of translation – on a sensual and emotional level.
More information after the jump → CLICK

---
---
Kultursommer Hamburg
---
A year like no other. In 2021, Hamburg sets a milestone in cultural communication - with a campaign that celebrates culture as an ultimate force. Directed by an unique collaboration of Hamburg Marketing, Hamburg Tourism, and the Department of Culture and Media, the city manages to sustainably raise awareness for culture across all genres and city boundaries.


---
---
BlackOut
---
Model: Jakob von Witzler, Yasemin Keles
Photographer's assistant, Hair & Make-Up: Rosabella Hübner
---
---
Archiv.ue
---
The University of Applied Sciences Europe invites you to an extraordinary exhibition: Within the scope of the virtual university – the "UE Campus in the Cloud" – the work of the Bachelor and Master graduates can be enjoyed virtually.
OPEN MIND is the first virtual exhibition of the final thesis of the Faculty Art & Design. Together with Amit Heyman I created the concept and design of the website.
archiv.ue-germany.com
---
---
The Sunscreen Club
---
Miguel Ribeiro x MC1R Magazine

Some cool merchandise for "The Sunscreen Club" by MC1R Magazine.
100% Redhead approved!
Buy here →
CLICK
---
---
Our Gaze
---
A project about young adults and teenagers, their relationships and love stories. Photos and videos capture people like you and me. The idea is to express the feeling of struggling to find your place in this world, especially when you're young. Who do you love? What even is love? And who even am I?Important is to consider, that it's not from the perspective of already grown ups, but teenagers and young adults. The movie and photos are made by people who are trying to figure it all out and for people who are doing just the same. It's not 'teenage gaze', but 'our gaze'.

Project by
Luna Kolberg, Lukas Czarnojohn,
Luca Breckwoldt & Miguel Ribeiro
Starring:
Luisa Röhr, Bella Kolberg, Nikolai Dahmen, Morten Pietsch
--- ---
Pride.
---
---
KOSMEO
---
What is inside your cosmetics? Kosmeo combines transparency & fun and its corporate design gives a completely new view on sustainable cosmetics. The focus here is on the customer experience and the DIY-mixing of ingredients in the store or on the user-friendly app. The special thing about the app: A new cutting edge technique matches your favorite ingredients - which ingredients fit together and which ones less? There you can plan your next visit, so that your KOSMEO experience is sure to succeed.

Project by
Marieke Mucks, Janne Studt, Marcia E.T. & Miguel Ribeiro
---
---
QUER Magazin
---
QUER offers students a platform to give their projects a voice. A mix of illustration, film & motion design, photography, communication design and game design in one magazine. I am a member of the content management and design & layout department. Here is a selection of some layouts from the magazine.
---
---
Untitled #1
---
---
Leather Fairy Tales
---
Model: Antonia Albert, Janne Studt, Marcia E.T.
---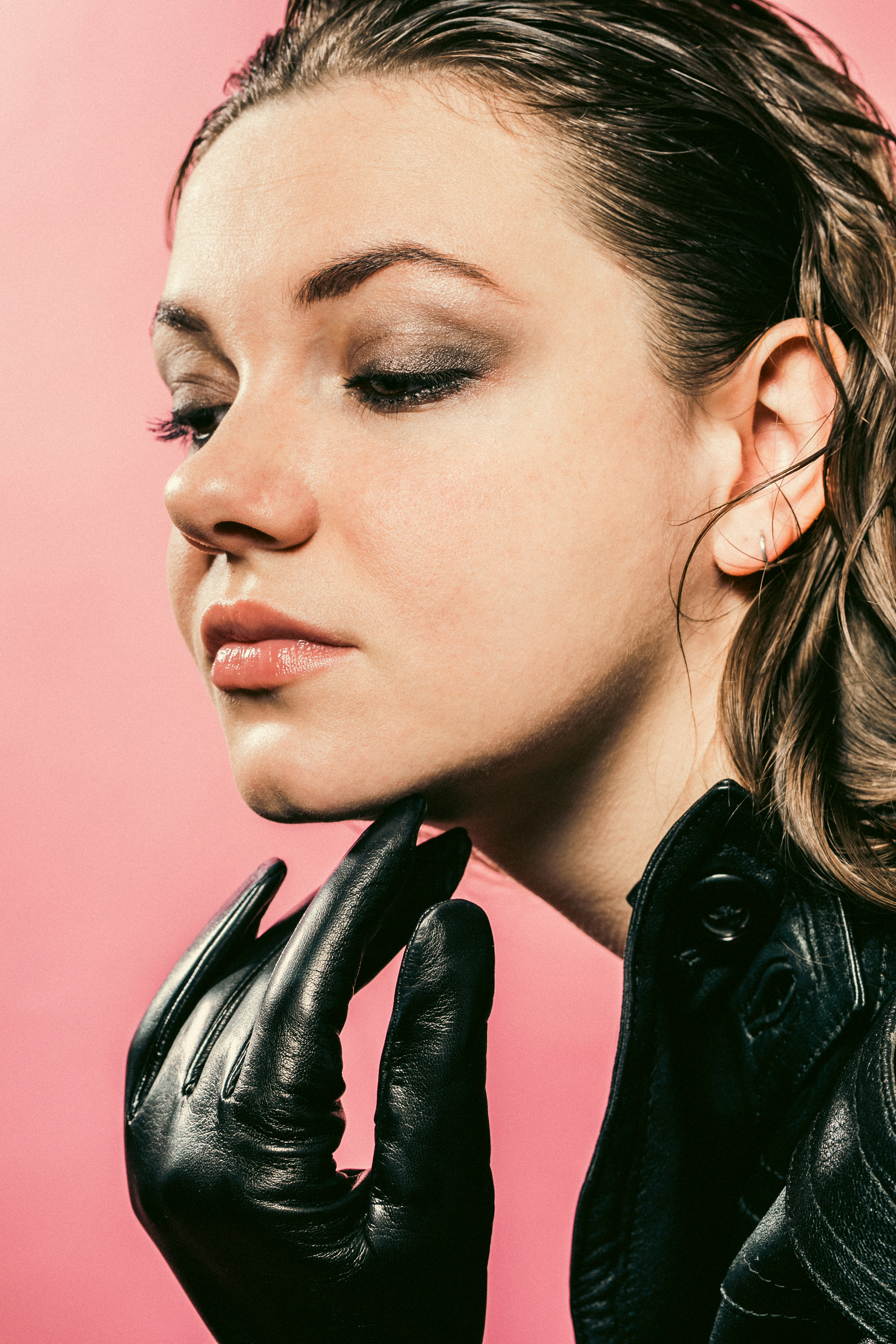 ---
Static x Dynamic
---
How do statics and dynamics correspond to each other? This question was the starting point for my exploration of form and color. What makes a picture dynamic and what must happen for a picture to start moving without really moving. My poster series shows an interesting interplay of movement and stillness, which is otherwise reserved for animation.
---